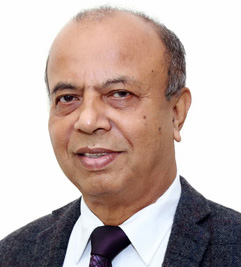 Dr. Saleh Ahmed Bhuiyan is the founder President & dreamer of the Institute of Certified General Accountants of Bangladesh (ICGAB) and the Association Accounting Technicians of Bangladesh (AATB). He founded AATB in 2001 with the permission of MoC, GoB. He served long 18 years as president and in 18th years he upgraded the AATB as the Institute of Certified General Accountants of Bangladesh (ICGAB) with the approval of Ministry of Commerce, Government of the peoples' Republic of Bangladesh. The up gradation possible for continuous leadership and uninterrupted passion.
Dr. Saleh Ahmed Bhuiyan is a well-known brilliant professional accountant in the society and CEO. He was born in an aristocratic Muslim family of Chatkhil upazila under district Noakhali. He obtained graduation and master's degree in accounting from Dhaka University. He did post graduate diploma from Southampton University & PhD from University of New Castle.
Dr. Saleh Ahmed Bhuiyan is a Cost and Management Accountant (CMA) from ICMAB, Chartered Secretary (CS) from ICSB, Certified Financial Consultant (CFC) from IFC, and Certified General Accounatant (CGA) from ICGAB. Senior Fellow Member of all these 4 four institutes.
Dr. Saleh Ahmed Bhuiyan is the chairman & Founder of Safs Education Foundation, Safs Business Institute, SAFS-School of Accounting and Finance Studies, Institute of Communication Technology & Uttara Ideal Commerce College,
He started his his career in SQUIBB a multinational Pharmacetial Company. He worked in Bangladesh Textile Mills corporation as Managing Director. Institute Cost and Management Accountants of Bangladesh as Executive Director & CEO and ADB as Consultant.
Dr. Saleh Ahmed Bhuiyan is a life registered graduate of Dhaka University, life member of Association Bangladesh Commonwealth Scholars, life member of Bangladesh Probeen Hitoshi Sanga, active member Quantum foundation and associated with many social organization like School, College, Moshjid, Madrasah etc.
He was awarded by many organization like Nawab Salimullah Academy, Bangladesh Renesa a Society.
Dr. Saleh Ahmed Bhuiyan is married with professor Amena Begum a former brilliant student of Dhaka University & now working as Chief Principal & Director General of a College group. They are proud parents of two very brilliant British Chartered Accountants daughters. Their elder daughter Farah Binte Saleh is managing partner of an accounting firm in London and younger daughter Sarah Binte Saleh who qualifies at the age of 21 now working one of biggest government owned housing company as Regulatory Compliance Officer in London & we pray to the almighty Allah for his long life and sound health.