CGA February 2022 Exam Schedule
Dear Participant,
This is to inform that the February 2022 examination schedule has been published. Please confirm your exam entry with exam form & photograph and relevant fees by 28th January 2022.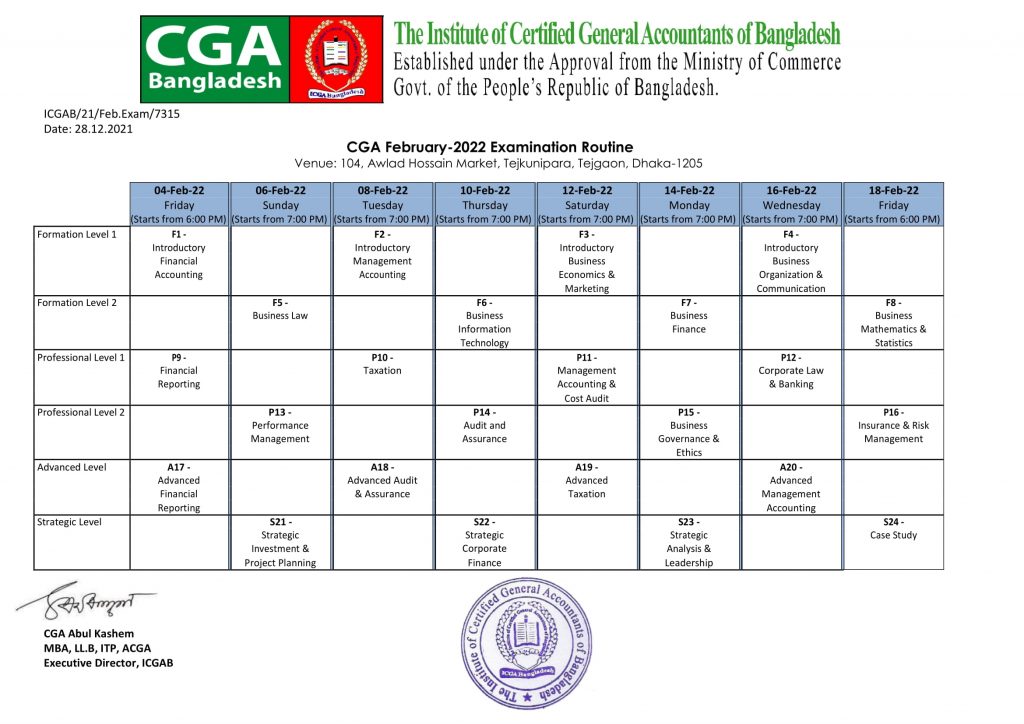 Participants may complete the exam entry online or by emailing the filled out word exam form to icgabangladesh@gmail.com with a subject line "CGA Feb-22 Exam Entry" and paying through Bkash/SSL Gateway/Bank Deposit. CGA Office is open for the exam entry procedure.
Exam fee payment options:

CGA Merchant Bkash Payment Account:
01958612080
Bank Deposit/Fund Transfer:
Bank A/C Name: The Institute of Certified General Accountants of Bangladesh
Bank: IFIC Bank, Elephant Road Branch, Dhaka.
A/C Number: 1014174545001
Routing No: 120261332
Online Exam Entry form:
https://forms.gle/CRq5EiafMyavkzVdA
You are requested to contact Mr. Mahmudul Hasan (Accounts Officer) (+8801521540865) for any issue related CGA Exam or Due fees.
Regards
CGA Abul Kashem
MBA, LL.B, ITP, ACGA
Executive Director